Significance of the Insignificant - Revision Materials
In recent years, some English Literature GCSE and A-Level exam questions have asked students to focus on areas of a set text that perhaps diverge from the "main" thematic or character-based concerns of the text.
It is important teachers note that exam boards make explicit the fact that questions and extracts can come from ANYWHERE IN A TEXT - therefore, skipping over the seemingly insignificant is not necessarily a sensible idea.
Learning time is limited, and it is logical to spend quality time on "key" sections of a text. To that end, we have provided brief analysis of four 'insignificant scenes of significance' for a number of GCSE texts, so that these scenes can be explored comprehensively but efficiently by pupils.
These scenes are also incredibly useful for demonstrating whole text knowledge - whilst key scenes may be rich in material, these brief scenes are excellent for highlighting the development of theme or character, and may even awaken an examiner to a new and original point that hasn't been made by pupils again and again!
Are you interested in writing a piece for our Significance of the Insignificant series? 
If you would like to know more about publishing an article for this series with us, on any number of GCSE texts, then get in touch at contact@thequotationbank.co.uk to find out more.
Please note – the articles below may be used freely in educational settings but must not be used or adapted in any way for commercial purposes under any circumstances. Copyright remains with the author of the articles.  
Significance of the
Insignificant
 - Macbeth (right click on article to save or print)

Significance of the 

Insignificant

 - An Inspector Calls (right click on article to save or print)


Significance of the 

Insignificant

 - Romeo and Juliet (right click on article to save or print)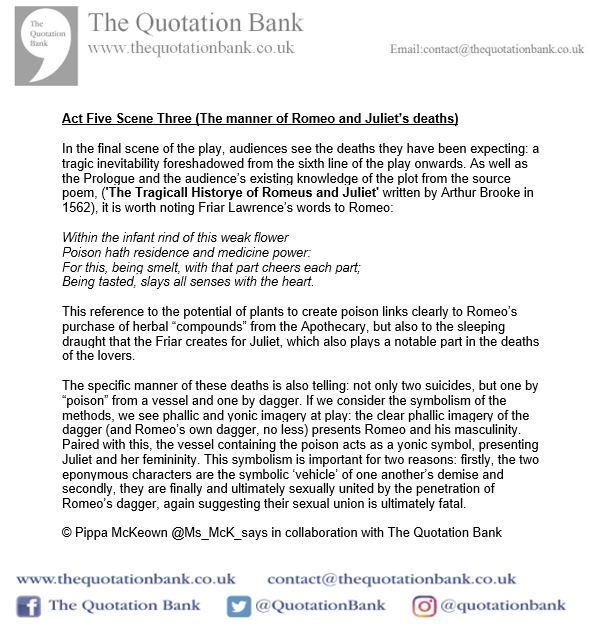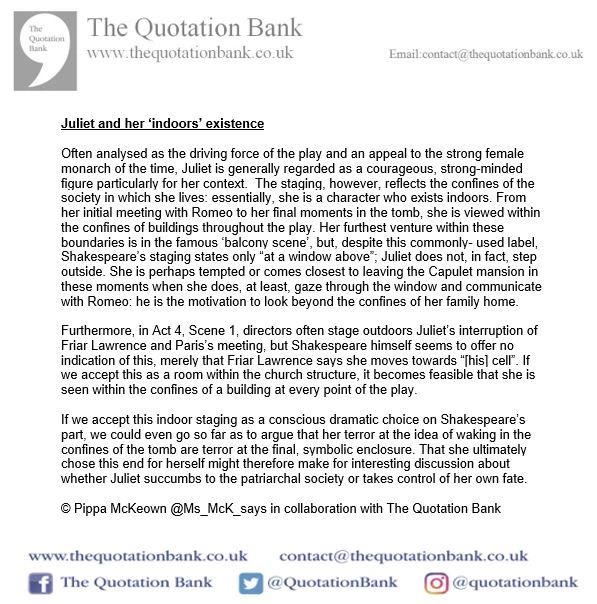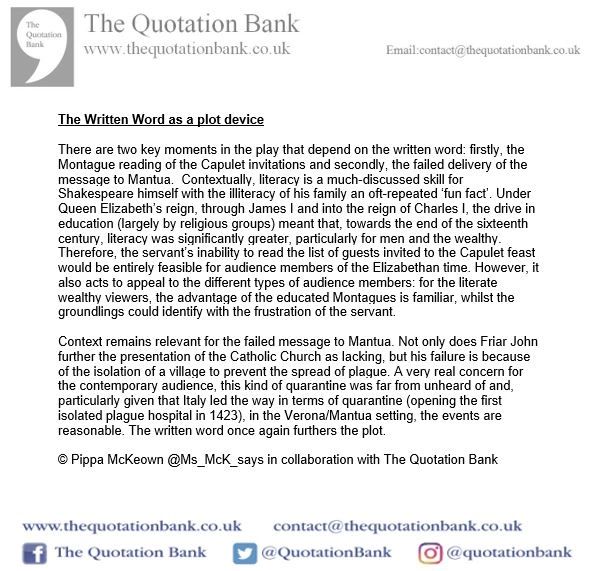 Significance of the 

Insignificant

 - Dr Jekyll and Mr Hyde (right click on article to save or print)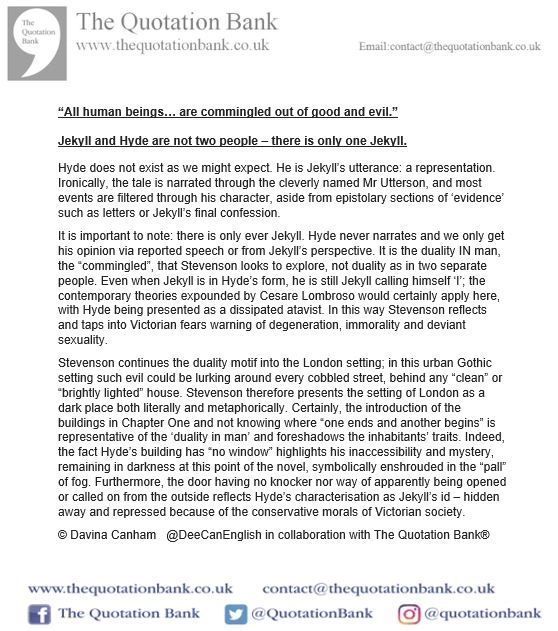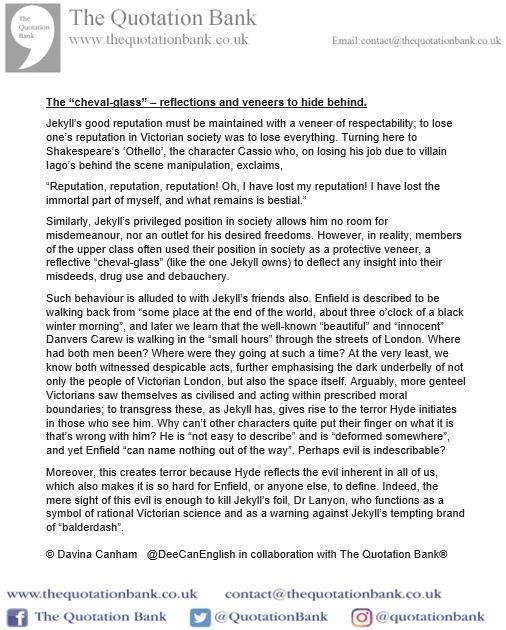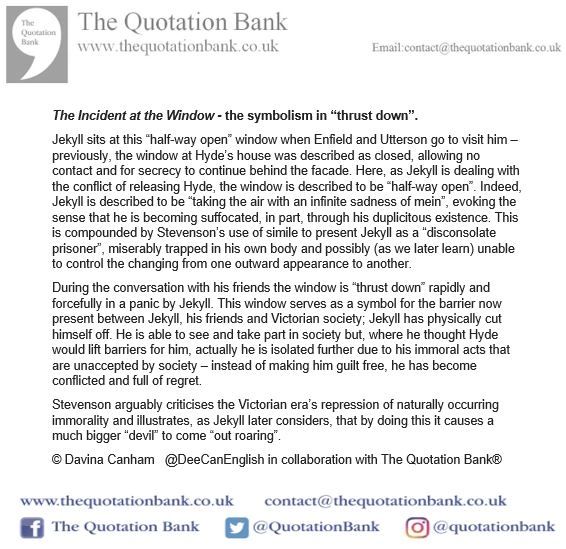 Significance of the 

Insignificant

 - A Christmas Carol (right click on article to save or print)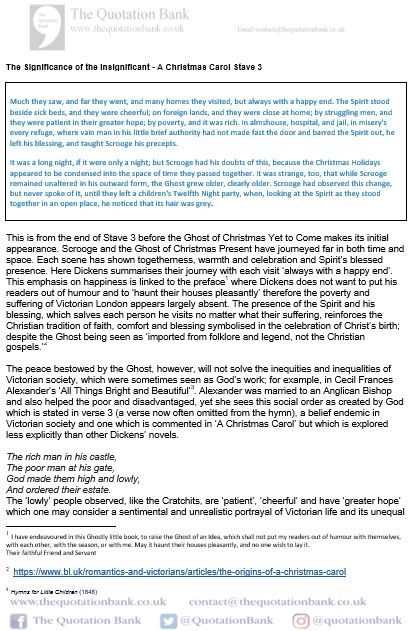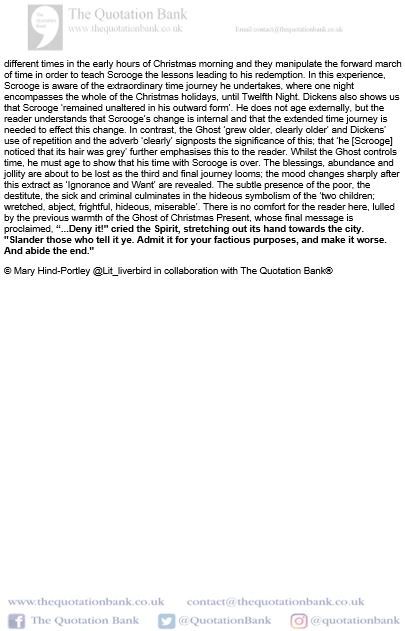 Teaching and Learning Resources by text


An Inspector Calls
Essay Planning and Quotation Analysis Resource based on The Quotation Bank®: An Inspector Calls

A lesson resource that allows pupils to analyse a variety of quotations and structure an essay plan for a specific essay question
Adaptable - for use in the class room or for homework, and for use by groups or individuals
Flashcard Revision Resource based on The Quotation Bank®: An Inspector Calls

A lesson resource that allows pupils to create a quotation analysis revision flashcard
It also models a 'perfect paragraph' exam style answer and allows pupils to produce their own
Adaptable - for use in the class room or for homework, and for use by groups or individuals
Comes with teacher notes and pupil instructions
In Word format, so adaptable for your class requirements 
Download the resource by clicking here (opens in new window - Dropbox file)
Dr Jekyll and Mr Hyde
Extract Analysis Resource based on The Quotation Bank®: Dr Jekyll and Mr Hyde

A lesson resource that allows pupils to annotate and produce detailed analysis of a selected extract from a text
Adaptable - for use in the class room or for homework, and for use by groups or individuals
Flashcard Revision Resource based on The Quotation Bank®: Dr Jekyll and Mr Hyde

A lesson resource that allows pupils to create a quotation analysis revision flashcard
It also models a 'perfect paragraph' exam style answer and allows pupils to produce their own
Adaptable - for use in the class room or for homework, and for use by groups or individuals
Comes with teacher notes and pupil instructions
In Word format, so adaptable for your class requirements 
Download the resource by clicking here (opens in new window - Dropbox file)
Macbeth
Extract Analysis Resource based on The Quotation Bank®: Macbeth

A lesson resource that allows pupils to annotate and produce detailed analysis of a selected extract from a text
Adaptable - for use in the class room or for homework, and for use by groups or individuals
Flashcard Revision Resource based on The Quotation Bank®: Macbeth

A lesson resource that allows pupils to create a quotation analysis revision flashcard
It also models a 'perfect paragraph' exam style answer and allows pupils to produce their own
Adaptable - for use in the class room or for homework, and for use by groups or individuals
Comes with teacher notes and pupil instructions
In Word format, so adaptable for your class requirements 
Download the resource by clicking here (opens in new window - Dropbox file)
A Christmas Carol
Flashcard Revision Resource based on The Quotation Bank®: A Christmas Carol

A lesson resource that allows pupils to create a quotation analysis revision flashcard
It also models a 'perfect paragraph' exam style answer and allows pupils to produce their own
Adaptable - for use in the class room or for homework, and for use by groups or individuals
Comes with teacher notes and pupil instructions
In Word format, so adaptable for your class requirements 
Download the resource by clicking here (opens in new window - Dropbox file)
Extract Analysis Resource based on The Quotation Bank®: A Christmas Carol

A lesson resource that allows pupils to annotate and produce detailed analysis of a selected extract from a text
Adaptable - for use in the class room or for homework, and for use by groups or individuals
Romeo and Juliet
Extract Analysis Resource based on The Quotation Bank®: Romeo and Juliet

A lesson resource that allows pupils to annotate and produce detailed analysis of a selected extract from a text
Adaptable - for use in the class room or for homework, and for use by groups or individuals
Lord of the Flies
Essay Planning and Quotation Analysis Resource based on The Quotation Bank®: Lord of the Flies

A lesson resource that allows pupils to analyse a variety of quotations and structure an essay plan for a specific essay question
Adaptable - for use in the class room or for homework, and for use by groups or individuals
Flashcard Revision Resource based on The Quotation Bank®: Lord of the Flies

A lesson resource that allows pupils to create a quotation analysis revision flashcard
It also models a 'perfect paragraph' exam style answer and allows pupils to produce their own
Adaptable - for use in the class room or for homework, and for use by groups or individuals
Comes with teacher notes and pupil instructions
In Word format, so adaptable for your class requirements 
Download the resource by clicking here (opens in new window - Dropbox file)
Animal Farm
Essay Planning and Quotation Analysis Resource based on The Quotation Bank®: Animal Farm

A lesson resource that allows pupils to analyse a variety of quotations and structure an essay plan for a specific essay question
Adaptable - for use in the class room or for homework, and for use by groups or individuals
Essay Planning and Quotation Analysis Resource based on The Quotation Bank®: Blood Brothers

A lesson resource that allows pupils to analyse a variety of quotations and structure an essay plan for a specific essay question
Adaptable - for use in the class room or for homework, and for use by groups or individuals
The Sign of Four
Extract Analysis Resource based on The Quotation Bank®: The Sign of Four
A lesson resource that allows pupils to annotate and produce detailed analysis of a selected extract from a text
Adaptable - for use in the class room or for homework, and for use by groups or individuals